First of all, THANK YOU for stopping by to check out our website, and we hope to see you in our shop soon!!!
We
pride ourselves in our HUGE selection of ANTIQUES,
USED FURNITURE
, TOOLS, GLASSWARE, JEWELRY, DAY-TO-DAY ITEMS, AND MORE!!!! We are sure to have that item you need or want, or that perfect gift for that special someone!!! Just think about it .........
Books

Music
Movies

NASCAR
M.I. Hummel Figurines

Dolls
Peach Cider (mmm mmm good!!)

Tools
Lots of Advertising Memorabilia
Glassware
and more.....
Just stop by and take a tour through our shop!!! You will be amazed!!!
WE TAKE DEBIT CARDS and CREDIT CARDS FOR PURCHASES!! If you have a VISA, MASTERCARD, AMERICAN EXPRESS, or DISCOVER card, you can use it for your purchase now!! Come shop with us today!!
********We are sooo EXCITED!!!! We are constantly posting on FACEBOOK, so be sure and check out our page ANTIQUES-AT-SIP so that you can stay connected and be aware of when we have more loads come in and to be able to view pictures as well!! ********
SWEET DEALS BELOW!!!!!!!
SOPERTON ICE PLANT ANTIQUES & COLLECTIBLES previewing:
Vintage Quilts, Linens, Ladies Hankies, Scarves, Doilies, Aprons, etc * Railroad Magazines Cookie Jars * Grinding Stones on Stands * Camelback Trunks, Steam Trunks, & Suitcases
Quilt Frame * Organ Stools * Salt & Peppers * Grape Trays * U.S. Flags * 5 Gallon Glass Jugs China Cupboards & Pie Safes * Feed Bags * Vices & Drill Press * Cow Bells * Sad Irons
Variety of Old Metal Cabinets * Books & Paper Memorabilia * Jewelry * Tin Type Pictures Crocks & Pottery * Snowcrest Bear Banks * Cigar Boxes * Meat Saws Scout & Military Items * Old Wood Planes * 55 Gallon Liquor Kegs * Washboards * Home Decor Pyrex * Hull & Roseville * Fostoria * M.I. Hummel Figurines * Royal Crown Cola Thermometer * Mikasa China: Palatial Platinum * Shannon by Godinger Crystal * Milk Glass * Shoe Lathe Blacksmith & Cobbler's Tools * Christmas Wreaths, Ornaments and Décor * Baseball Cards*
Two Man Saws, One Man Saws, etc * Pillsbury Doughboy * Raggedy Ann & Andy Dolls
Tar Cups * Old Bottles & Jars * Vintage Kitchen Utensils * Bundt Cake Pans * Ammo Bags
Coca-Cola Collectibles and Ornaments * Clamps, Bits, & Miscellaneous Tools * Pump Organs John Deere, M&M, Budweiser, and "HOPE, PEACE, LOVE" Christmas Ornaments * Sports Items Machetes and Butcher Knives * Lanterns * Victorian Furniture * Prince Albert Cigarette Tins Pictures and Prints * Salt Dips & Crystal Knife Rests * Cast Iron Griswald and Wagner Skillets Well Bucket * Advertising Tins, Wood Boxes,& Medicine Bottles * Old Crank Telephone
Blue Willow China * Miscellaneous Tables & Stands * Early Almanacs * Cloth Calendars
Metal & Tin Advertising Signs including: VICKS Cough Drops, Viceroy Cigarettes, Sunbeam Bread, Coca-Cola, and more * Sickle * Hay Fork * Potato Fork * Horse Hames * Single Tree Double Tree * Vintage Auto Wiper Blades, Door Arm Rests, Side Mirrors, Rearview Mirrors, etc Wood Advertising Crates: Ma's Old Fashion Root beer, Jewel Pears, Shredded Wheat, Corn Beef, etc * Horse Shoes * Beer Signs & Mirrors * LP & 45 rpm Records * Straight Razors
Nabisco Premium Saltine Tins * Wood Doll House & Furniture * Ertl Die cast Cars & Others; Cheese Box * Ammunition Boxes * Tractor Seat * Wrought Iron Fireplace Hearth Fender Saddles * Claw foot Bathtub * Posters & Signs * Corn Sheller * Scales * Cast Iron Bell
Tom's & Lance Counter Jars * Princess Diana Collectible Plates * Marilyn Monroe Collectibles Elvis Collectibles * NASCAR Collectibles * Red Roadmaster Wagon * Sears Craftsman Chop saw Match Safes * Amish Horse Buggies & a Carriage * Carnival Glass * Walt Disney Collectibles
Images of America Books: Treutlen County, Montgomery County, and Georgia's Confederates Bossons * Punch Bowls * Star Wars Collector's Plates * Celebrity Autographed Photos & Books
Gone with the Wind Collectibles * Assorted Noise Makers * Spinning Wheels * Graniteware MLB & NBA Collectibles * Wringer Washers * Wood Cook stoves * Baby Carriage & Buggies Butter Molds * Coca-Cola & 7Up Drink Boxes * Ruby Red Dishware * Buck Saws * Straw Cutter Slag Glass * Murano Glass * Cast Iron Bean Pot * and so much more!!!!
Our shop is FULL of great deals for our customers!!!! Following is a Gem Pac Wood Burning Cookstove !!! You don't find these everyday, and especially this nice, so don't miss out!!! Once it's gone, it's gone!!!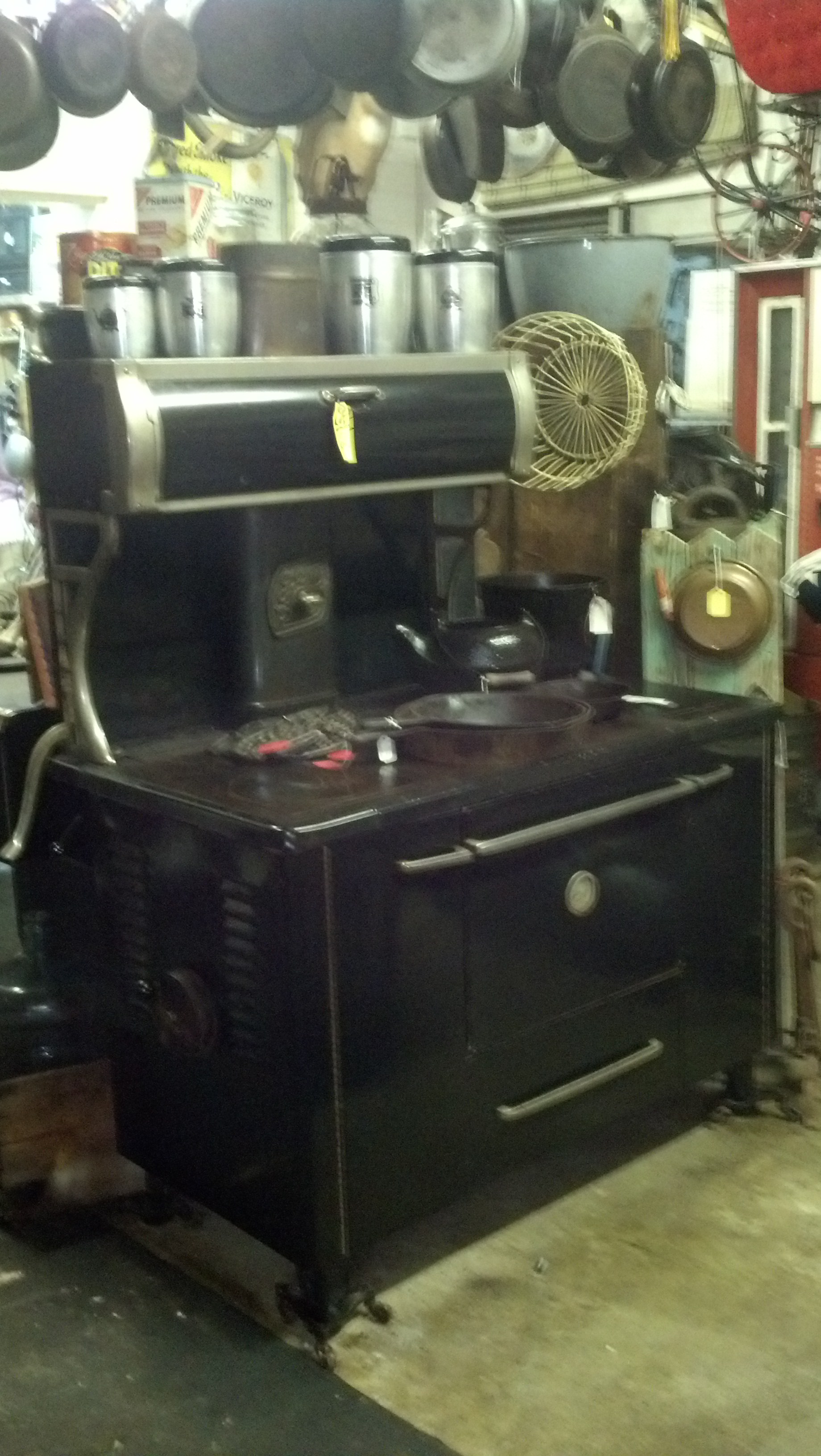 Now remember......once it's gone, it's gone: so stop by now for the greatest selection!!!!
We take VISA, MASTERCARD, AMERICAN EXPRESS, AND DISCOVER cards for your purchases.
Don't forget, find us on FACEBOOK and "LIKE" our page...
Antiques at SIP
MEN: SNAP-ON & MAC tools..... come check them out!!! There is not as big of a collection anymore, but still plenty to choose from...... but they won't last long!!!
Just in!!!!! We have brought in a HUGE collection of M.I. Hummel Figurines and Porcelain Dolls. So many to choose from, and all are priced at 50% or less than Robert L. Miller's book value. There's sure to be one to please the one you love the most!!
We also have the Images of America books: Treutlen County, the Montgomery County Edition, and Remembering GEORGIA'S CONFEDERATES. These books are a great collector's piece or make a wonderful souvenir from these counties!!!
FIND US ON FACEBOOK.... Like our page! Stay up to date with Soperton Ice Plant Antiques & Collectibles, because you never know what you will find!!
Here is a brief listing of items currently in our shop:
WWII 1943 NEWSPAPERS, New in the Box Hanging Lights & Chandeliers (beautiful), OLD RACING PAPERS, BEER MIRRORS & BEER LIGHTS, GONE WITH THE WIND BOOKS, OLD ICE CHOPPER, SAW VICE, OLD TOBACCO GRINDER, SNOWCREST BANK, MORTAR & PESTLE, MEAT SAW, PORCELAIN POTS & COLANDERS, GRISWALD SKILLETS, SAD IRONS, OLD GRINDING STONES, RAILROAD JACK, WOOD LEVELS, LATE 1800'S NESTLES MILK CAN, and…..
COLONIAL ERA ANVIL from 1700's !!!!
Plus…. A WHOLE LOT MORE!!!!
**********************************************************
USED FURNITURE......yes....we have it!!! We can furnish most any room: DINING ROOM TABLE & CHAIRS, CHINA CABINET, UPHOLSTERED CHAIRS, TABLES, BEDS, DRESSERS, CHEST OF DRAWERS, DESKS, CURIO CABINETS, CREDENZAS and so much more!! Stop by and see what we have!!!!
Don't forget, find us on FACEBOOK and "LIKE" us...
Antiques at SIP
1948 Ford Georgia State Patrol Car
Always on display during regular business hours....
Not just an ordinary antique shop!!! Over 5,000 square feet FULL!!! You could spend hours and still not see every treasure in our shop. We welcome you to try!!
Regular Hours:
Thursday & Friday 10am – 5pm
Saturday 10am – 4pm
Sunday – Wednesday by Chance
Just call during regular hours to find out, or we post on FACEBOOK our by chance days... so be sure to "LIKE" our page on FACEBOOK to stay up to date on promotions, sales, and By Chance days!!
Come by to see our early 1900's Cutter Sleigh in the Christmas Room, an Amish Horse Buggy hitched out back, a vintage Elmira Stove Works Cook Stove, and a very nice Oak Pump Organ ready to make a tune!!
Be sure to find us on FACEBOOK
and "LIKE" us!!!
Antiques at SIP
You will find photo albums of pictures of items in our store. Be sure and check them out!!
DIRECTIONS------

From Atlanta or Savannah: I-16 to Exit #67 Hwy 29 SOUTH. Go 5 minutes to Soperton. First red light turn left on Hwy 221, cross RR tracks, then immediate right. Soperton Ice Plant Antiques & Collectibles is 1 block on left.

From Vidalia, Georgia: Hwy 29 & Hwy 15 north to Soperton. At first red light, turn right on Hwy 221, cross RR tracks, then immediate right. Soperton Ice Plant Antiques & Collectibles is 1 block on left.

From Eastman, Georgia: Hwy 46 east to Soperton. At caution light, turn right. Go to next light turn left on Hwy 221, cross RR tracks, then immediate right. Soperton Ice Plant Antiques & Collectibles is 1 block on left.